Our professional and qualified dog grooming team consists of Emma, the founder, Lynne and Cinda! With dogs of their own, your furry pals are in capable hands, even if they are a little nervous about getting G-R-O-O-M-E-D.
Tired of the office scene, Emma left to follow her passion for dogs and start a salon. Dog grooming was the ideal path for her, as she already knew she had a knack for the canine grooming industry after caring for her own Labradoodle, Honey. With over a decade of experience and experience training under Colin Taylor, Emma has never looked back!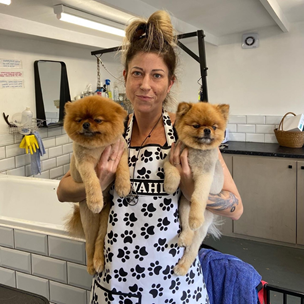 Lynne has loved dogs ever since she was a kid. At 16 she started working at boarding kennels and found her passion in caring for and grooming pups and for the last 3 years she has made it her career! With 2 dogs and 5 cats at home, Lynne is most happy when surrounded by animals, make sure you keep an eye out for her own dogs, Lily and Kookie, who sometimes keep Lynne company when she's working, (or when they're due their own groom!)
"It's so important to me that your dog is relaxed during their groom, so I do make sure to give nervous dogs as much time and as many breaks as they need. Ultimately not every dog enjoys being groomed but I try to make the experience as stress free as possible for everyone 💜"
If you would like to make an appointment or discuss your dog's needs, please get in touch by phone or e-mail. We can also offer flexible appointments to fit around your busy schedule.